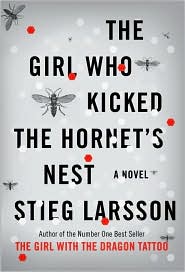 It was a long wait to get this ebook from my library, but finally it was my turn. It was pretty long, but by the time I was almost halfway through with it, I could hardly put it down. I read almost the entire second half of the book Monday night, and was up until after 2am to finish it.
In my opinion, this is the best book of the three, but I know I've talked to some people who found it the darkest and therefore the hardest to read. I loved it though. Lisbeth's character is fairly slow to develop in the first two books — you don't really find out much about her in the first book, and the second book only starts to develop her character more.
In the third book, however, Lisbeth is in deep trouble. Having been wounded at the end of the second book, Lisbeth spends most of the time in the third book in the hospital, with the possibility of a prison sentence looming over her. Blomqvist convinces her to fight it out in court, and while she is able to help a little thanks to her computer hacking abilities, most of the investigative work falls to several different factions who are trying to find out the truth about the super-secret division of the Swedish secret police that had Lisbeth committed when she was 12. At the same time, "the Section" is viciously fighting back, trying to protect themselves by making sure their decades-old secrets stay buried — at any cost.
There is a lot going on at once in this novel, and as a result the plot is complicated but extremely suspenseful. One of the things I like about Stieg Larsson's books is that he doesn't use eleventh-hour crises to maintain suspense — instead he maintains it through a complex plot that all comes together neatly at the end. It was quite a satisfying ending!