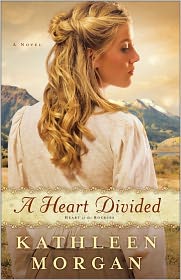 To my shame, this book seems like it's going to join the ranks of books I have not finished. I don't usually like to not finish books I've started, but in this case, I was so bored and I have so many
good
books I need to read right now, that I didn't want to waste any more time on this than I already have.
A Heart Divided
is listed as historical fiction, but in reality it's very trite Christian romance. The plot is rather dull and predictable, and I feel I have plenty of foundation to say this, since I read more than two-thirds of the book before I gave up on it.
Obviously
they are going to end up together (that was clear from 30 pages in), and obviously they are both going to go through some kind of spiritual catharsis. I didn't appreciate the religious overtones any more than I did the lack of excitement in the plot, OR the misrepresentation as historical fiction (though that may have been my library's fault; I don't know). The description and the classification as historical fiction makes it seem like it's going to be much more interesting than it is, and I was quite disappointed!