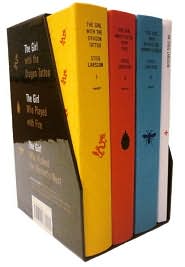 I recently finished the Millennium Trilogy by Stieg Larsson, and thought I should also mention the boxed set that is available. It's a really nice set, and I remember eyeing it around Christmastime.
You can find my reviews of the individual novels here:
The Girl with the Dragon Tattoo
The Girl Who Played with Fire
The Girl Who Kicked the Hornet's Nest
The boxed set also includes a slim volume called
On Stieg Larsson
, which is apparently a collection of essays about the author, including some correspondence with him.
The Barnes & Noble product page has a video about the boxed set, but apparently there is no way to embed it on my blog. I do recommend clicking on the image link and scrolling down to watch the video if you think you might be interested in owning nice collector's editions of these novels.