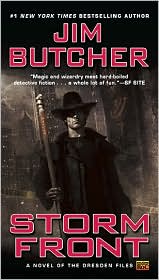 Recently I connected with an old friend of mine from sixth and seventh grades, and he invited me to the fantasy/sci-fi book club at our local Barnes & Noble. Although I wasn't able to make it to this month's meeting, I still read the book:
Storm Front
, by Jim Butcher.
I may have been about the only person who hadn't really heard much about these books, because apparently the Dresden Files are pretty popular. I can see why! The book was narrated in a style that reminds me of the private eye novels a friend of mine likes, but the narrator, Harry Dresden, isn't any old private eye — he's a wizard. Apart from being set in the modern world (urban fantasy, I believe they are calling it), the principles of magic are a lot like those in Patrick Rothfuss's books,
The Name of the Wind
and
The Wise Man's Fear
.
I really like the narrative style, though it's not the kind of book I would usually read — a slightly different flavor, if you know what I mean. But I really enjoyed it, which once again shows the value of other people's suggestions. It's good to get a little out of my comfort zone, and read something different for a change, even if it's not a whole lot different than what I usually read.
I wish I knew what the book club had to say, but apparently they liked it so much that they pushed back the next book in order to read the sequel next. I'm definitely on board with that, and maybe I'll even make it to the next meeting.