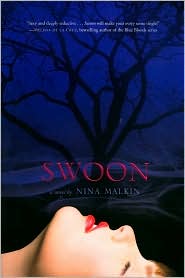 Swoon
was one of those ebooks on my B&N wish list that I didn't want to pay full price ($8.99) for, but also couldn't get it from the library. As a result, this was the first book I read via the Read In-Store feature on my Nook. I was able to read the entire book during about six separate visits to the store. Since my husband and I go to Barnes & Noble at least once or twice a week, and sit in the cafe drinking lattes and reading our books, the Read In-Store feature was a perfect way for me to read a book I didn't want to own.
Swoon
is about Candice, nicknamed Dice, a high school girl who has been relegated to small town America after an incident that you don't find out about until the very end, even though it's hinted at throughout the book. While she and her cousin Penelope are messing around one day, the spirit of a restless ghost inhabits Pen. Dice discovers that Sin (short for Sinclair) is here to try to find out who murdered his lover in Swoon more than two centuries ago, and is put into the position of helping him in his quest — either that, or let him rip the town apart as he takes vengeance on the descendants of those who wronged him!
I felt a little uninvolved in the story, which could have been because I was only reading it in bits and pieces over a period of 2 or 3 weeks. However, I couldn't shake the feeling at times that it was the author's exploration of her fantasy of a "bad boy" — and that it didn't jive with mine. Even so, it was a good story, and I liked how it ended. I may have been reluctant to pay $8.99 for the ebook, but this is one book that I think would have read better if I'd been able to read it over a couple of days, instead of weeks.