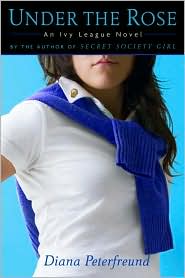 Last month I read the first book in this series by Diana Peterfreund,
Secret Society Girl
. (I was also honored by not just one, but
two
comments from the author — thank you for visiting, Ms. Peterfreund!) It was a fun novel about a lit major who gets drafted into her college's oldest — and previously all-male — secret society. The decision to include females in her year's taps stirs up trouble with the society's alumni, and Amy and her "brothers" have to fight for the right to bring Rose & Grave into the 21st century.
The issue is ongoing in
Under the Rose
, but Amy and her brothers are also confronted with another threat: A member of the society is leaking their secrets online, and they have to find out who. And at the same time as all this, Amy is dealing with the temptation of a relationship with one of her society brothers. In the first book, I was really intrigued by the thought of a relationship with this guy, but the second book puts a shocking twist on their relationship.
Under the Rose
also confirms a suspicion that I've had about Lydia, her roommate, since the first book.
I loved this book just as much as the first one. The author does a great job of continuing the story from the first book without making the issues seem old. The story is a little different, though, since half of the first book was about getting into the secret society. You could almost classify this book as a little bit of a mystery or a suspense novel, since one of the society members goes missing halfway through the book, and it's up to Amy to try to find out what's going on.
You wouldn't think there would be many more now, since Amy is a senior, but it looks like there are two more that take place before graduation. My reading list is a little crazy right now, but I am looking forward to more Amy adventures in the next few weeks!