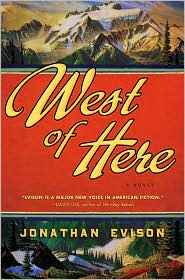 I hadn't been planning on reading
West of Here
quite yet, but I'd been on the hold list at the library for a while, so I decided I'd better read it while it was available to me. It is a longish book (almost 500 pages on the Nook), so it took me a little longer than I would have liked, which means I now have to scramble in order to finish
The Wise Man's Fear
(a library book) before it expires.
West of Here
was good, but not quite what I was expecting. It's a historical novel but also a tale of roots. The historical bits take place in the 1890s, telling the story of both the establishment of a community and an expedition into (supposedly) unexplored wilderness. However, the past is also paralleled with the present, as the story also encompasses the pioneers' and explorers' descendants in 2006, and how their forebears' decisions have impacted their lives.
There is also a surprisingly supernatural element. I don't want to spoil anything, so I won't say what it is, but it did really surprise me, since the novel seems so historical and serious (even though the community seems to be fictional).
The book was well written, but I do have to say that I didn't find it to be very engrossing or suspenseful. Most of the time I felt like I was just plugging away at it. I did come to care about the characters, enough so that I teared up at the very end, but it was still something of a slow march, if you know what I mean!