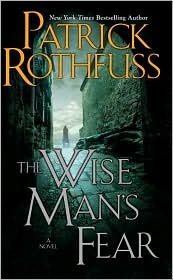 A busy week and weekend caused me to get a little behind on blogging. I actually finished
The Wise Man's Fear
last Tuesday! I had it from the library past the due date, so I had to make very sure not to back out of the book on my Nook until I was finished, or I wouldn't be able to open the file again.
The second book in Patrick Rothfuss's Kingkiller Chronicles (the first was
The Name of the Wind
),
The Wise Man's Fear
deviates even more from the Harry Potter comparison my husband made when trying to describe the books to me.
The Name of the Wind
was definitely darker than Harry Potter, but in
The Wise Man's Fear
, Kvothe leaves the university for a while and goes off on his own adventures, which makes for an even darker book. You have the feeling that the books are building up to something pretty significant, as in present day — when Kvothe is telling his story — there are mentions of a war going on, and how the roads are no longer safe. I have a feeling that whatever it is, it's something that Kvothe did.
These are awesome fantasy novels that I think even people who don't normally like other-world kind of fantasy would enjoy. Kvothe is a great humor, and there are some nice touches of irony and humor in the books, which I always appreciate. Anything that makes me laugh out loud while I'm reading deserves kudos, especially if it's not the sort of book where you would expect that! I highly recommend these books, although some people might want to do what another friend of mine is doing, and wait for the third book to come out before they start reading the series. Waiting is going to be difficult!