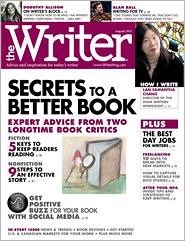 Edit 7/25/2011: The image shown is of the August issue. Sorry, but I had to update my links, and the image of the old issue wasn't available anymore!
Since I got my Nook last month, I've been interested in trying out a periodical. Unfortunately, I have no interest in most of the magazines that are available on Nook, and I see no point in paying for a newspaper subscription when it's so much easier (not to mention free) to get the same articles online.
So I was really excited when B&N announced that
The Writer
is now available on Nook. The subscription costs $3.50 a month and you can cancel at any time (which makes me wonder why anyone would pay $6.95 for the individual issue). Best of all, there is a 14-day free trial. The way my trial is timed, I will get two issues: the most recent one, and the next one, which comes out on Nook on May 28th.
I had mixed feelings about this issue, but on the whole I think there was some useful stuff in it, at least enough to justify a small business expense every month. About two-thirds of the articles I thought were mostly fluff pieces, chatty but with no real interest to me. The other third of the articles, on the other hand, were genuinely interesting and useful, and I found myself bookmarking several for later. For instance, there was an article on making the most of your time, with several suggestions that I could definitely stand to apply to my life — I've been feeling for months now, maybe even a year, like I've got increasingly less control over my time, but that's probably a topic for
my freelancing blog
. Another article gave some tips on handling simultaneous submissions — nothing ground-breaking, just good, common-sense advice.
I'm looking forward to my next issue, which comes out tomorrow!