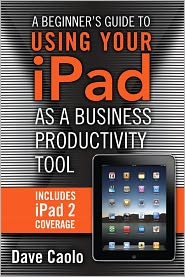 I got this ebook for free last month during one of the monthly Pearson Education promotions. They offer different ebooks free every month.
I was really excited about this one at first, but it was pretty disappointing. I guess the key word here is in the title: "A
Beginner's
Guide." Because it was really
very
beginner's. The ebook was only about 30 pages long, and most of it focused on basic things such as setting up your email on your iPad and using the calender. There was also a section about using the iPad for presentations, but I'm not sure I consider any of this to be productivity-related.
I was really disappointed because I was expecting it to discuss different apps that would help you to boost productivity — something I could really use some tips on. Too bad. I'm sure the ebook is useful for people who aren't really familiar with the many capabilities of tech gadgets, but for anyone who already is familiar with the iPhone, iPad, or iPod Touch, the information contained in this ebook is way too elementary.