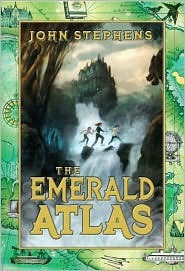 Initially my interest in
The Emerald Atlas
was as a present for a boy I babysit for, but I thought it looked interesting enough to warrant reading on my own. Originally I was going to
read it on my Nook in-store
, as the $10.99 price tag is a little more than I generally like to spend on an ebook, but then my library got the ebook so I just checked it out.
It sounds like this book is to be the first of a trilogy, called The Books of Beginning, and I am really looking forward to the rest of them. The style reminds me a lot of E. Nesbit (
The Enchanted Castle
,
Five Children and It
, etc.), with a little Narnia and
Lord of the Rings
thrown in for good measure. In the tradition of some of the best children's and YA literature, the author has slipped some wry humor in here and there, much of which will fly under the radar for the book's younger audience.
The story is about three siblings — Kate, Michael, and Emma — whose parents had to give them up in order to protect them. After bouncing around various orphanages for 10 years, they come to a strange place called Cambridge Falls, and while exploring find a mysterious green book. This launches them into an adventure where they have to change history and save the town from the evil forces who want the book's power.
If you go to
the website for The Emerald Atlas
, you'll find some more information about the book and the author. Still no news yet on when the next book will be out, but I imagine it'll be the usual year between books that most authors seem to do. The author's picture surprised me — John Stephens looks young and rather geeky, not who you'd expect to be writing an E. Nesbit-esque adventure story.
Such a fabulous book — I highly recommend it, for adults as well as children!