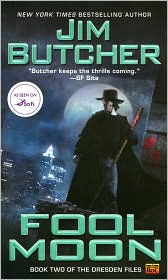 Michael (my husband) and I finally made it to my friend's fantasy & sci-fi book club — remember, I read
Storm Front
for it last month, even though I didn't end up making it to the meeting. But I really enjoyed the book, so I was determined to read the next one and make the June meeting.
(Actually, Michael didn't join me in the me in the meeting. He played games on his iPad in the cafe — said he didn't want to go to a book club meeting when he hadn't read the book, even though my friend assured me that not everyone does. Michael did meet everyone, though, and thought they were cool, so next time he'll join us.)
Anyway, the second book in the Dresden series was good, but I didn't enjoy it quite as much as
Storm Front
. I thought that one seemed to echo the detective novels of the 40s, and I didn't think this one had quite the same "hard-boiled" style. But it was still quite good, and I'll probably continue reading these books independently of the group (since next month's book is something totally different). I like the modern setting, and I like the characters quite a bit, especially Dresden, whose failures I find to be intriguingly realistic at times. He always seems to be surviving by the skin of his teeth!