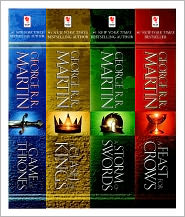 Edit 7/25/2011: When updating my affiliate links today, I noticed that the price of this has dropped a little. At $29.99, you actually do now save about $6 over buying the ebooks individually.
I've been slowly making my way through this series of books, A Song of Ice and Fire by George R.R. Martin. So far I've read
A Game of Thrones
and
A Clash of Kings
, but I have been waiting to blog about them until I've read them all. (That might have been a mistake, because it will be harder to remember my thoughts on the books by the time I get to the fourth one, as many books as are currently on my reading list — I might have to reconsider!)
I noticed the other day, though, that there is now a "boxed set" of the first four ebooks. (The fifth one,
A Dance with Dragons
, is due out next month.) Boxed sets of ebooks are nice — sometimes you get a deal on the price
(although not in this case)
, but the biggest advantage is that you simplify your ebook library a little bit, since all the books are under one listing.
I guess I should probably finish reading these four before the next one comes out, huh?