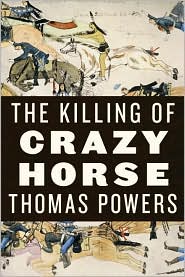 I've been fascinated with Crazy Horse since I was in my early teens. I was always interested in Indian culture and history, especially the Lakota, so it was natural that I would also become interested in Crazy Horse. But what guaranteed it was a movie that a history teacher showed in class,
Son of the Morning Star
. After that I went on to read everything about Crazy Horse that I could get my hands on, starting with the
original Crazy Horse biography by Mari Sandoz
.
So of course when I saw the newest book,
The Killing of Crazy Horse
by Thomas Powers, I got pretty excited. The ebook was available from my library, so I checked it out — twice, I'm afraid, before I finally got around to reading it.
I was surprised to find that the book is about a whole lot more than just the mystery and controversy surrounding Crazy Horse's death. It seems like Powers identified the major and minor players involved in the chief's death, and then worked backwards, researching each of them extensively to get a better idea of who each person was and how they were motivated. The end result is 500 pages of painstakingly footnoted material and a story line that is almost organic — each time a new person is introduced, Powers gives the backstory of his life up until that point before moving on with the story.
Also fascinating is the detailed description of the Battle of the Little Bighorn, which Powers puts together using records of eyewitness accounts. Throughout the book, whenever the eyewitness accounts differ (which they do frequently, especially those of Crazy Horse's death), Powers always notes the differing stories.
It was long and difficult to read, requiring a lot of concentration (no speed reading on this one!), but it was also hugely fascinating. The book is a pretty amazing accomplishment — I don't think a single stone was left unturned in Powers's research. Unless undiscovered evidence is eventually found, I don't think we'll ever have a clearer picture of the events leading up to Crazy Horse's death, or the impact afterward on the lives of those involved.