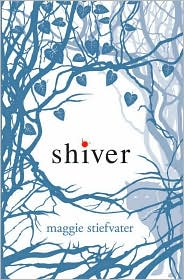 I was on vacation — or should I say, "staycation" — all last week, which is why there's been a lack of posts on this blog. I didn't do as much reading as usual, oddly enough, mainly because my husband and I spent a lot of time on improvements to the house. I did finish several books, however, so I'll start working on getting those reviews up on the blog.
I read
Shiver
thanks to
ebookflip.com
, an ebook lending website that I reviewed a little while back. Basically, the website is a place for people with lendable Nook books to come together. You can borrow ebooks from other members, and you earn points (so that you can continue to borrow) by lending your own ebooks.
One feature I really like is the wish list on the site — there is a setting that will notify you if a member lists an ebook available for lending. I've been on the waiting list for
Shiver
since I first signed up for the website. I'd seen it at Barnes & Noble shortly before discovering ebookflip.com, and knew I wanted to read it.
Anyway, the book is (yet another) YA dark fantasy-romance, about a teenage girl who falls in love with a werewolf. Grace had been bitten as a child but didn't turn, for some reason they can't explain, but it has given her an undeniable connection with the werewolves that live in the forest behind her house. So when she finally meets Sam, the chemistry between them is instantaneous.
I like the author's take on werewolves. Instead of changing with the moonrise, or even being able to control the change, they change when it gets cold. For years, they change back into humans every summer, until finally they just don't change anymore at all, and become regular wolves. Sam is in his last summer as a human, so there is an expiration date on his and Grace's relationship — unless they can figure out what "cured" her when she was bitten as a child.
The ending is a bit predictable, but it's a good book. Luckily, the sequel just became available on ebookflip.com, too, so I'm able to read both for free!