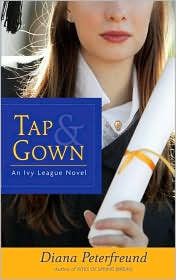 If you follow my blog regularly and are thinking that this book never showed up in my "Reading Now" section of my sidebar, you're right. I read this book all in one day — on Saturday, while I was spending the day doing a medical study that involved a lot of waiting around. I finished the book before I ever got to a computer to update my current book.
Tap & Gown
is the fourth book in Diana Peterfreund's Secret Society Girl series, which I've been reading lately. Here are my reviews of the first three books:
Secret Society Girl
Under the Rose
Rites of Spring (Break)
I've also read two of her YA novels, the Killer Unicorn series,
Rampant
and
Ascendant
. Both were good, but I especially like the witty, sarcastic sense of humor in the Secret Society Girl series.
Another thing I like about these books is the way Peterfreund addresses some really serious issues. The first book — and, to some degree, the second — deal with sexism. This book had a different theme: abusive behavior toward women, and how the authorities (and often the women themselves) are way too willing to look the other way or make excuses for the behavior. It was a great way of dealing with this issue in a fictional sense, though it was difficult to read about Michelle's ex-boyfriend — he reminded me way too much of my own Evil Ex.
I love a read that is both entertaining and thought-provoking!