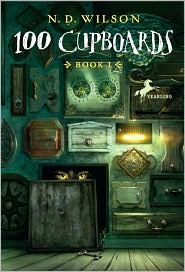 I was having a bit of a hard time deciding what to read after
Linger
. I was feeling like I was getting a bit burned out on YA, but
100 Cupboards
was checked out from the library and I wouldn't have it much longer. I also figured it would be a fairly quick read (which it was). It was a fun book, and one I would highly recommend for elementary school kids. I'd even recommend it to certain fun-loving adults I know!
The book is about Henry, a boy whose journalist parents are kidnapped while doing a story in another country, forcing him to move in with his aunt, uncle, and his three cousins until the matter is resolved (which could be a while). In his attic bedroom at their house, he finds that one of his walls is full of tiny cupboards, which turn out to be magic passageways to other places. With the help of his cousin Henrietta, they begin exploring the cupboards, only to find that some things in the cupboards never should have been released.
It was a great book, but now that I'm done with it I think I may stay away from the younger genres for a little bit. I'm
definitely
feeling burned out on children's and YA fiction right now.