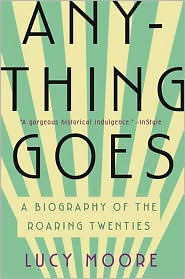 I've been picking away at this book for a little while, and I finally finished it earlier in the week.
Anything Goes
was one of my choices of books to read as part of my research of the time period for
a novel I want to write
. It's also relevant to my wedding blog, so I posted a brief review of
Anything Goes on My 1920s Wedding
.
The book is amazingly well organized, with a separate chapter for each subject it covers. It discusses the jazz movement of the era, as well as Prohibition, organized crime, and the influence F. Scott Fitzgerald's books — with its characters based on his wife, Zelda, the epitome of the 1920s flapper — had on the culture of the decade.
The research I'm doing is to try to get a feel for the 1920s, and specifically 1920s Chicago, to create an authentic setting for my novel. This book did a great job of illustrating what the 1920s must have been like for those who lived through it. It makes you feel the high spirits and enthusiasm that permeated the decade, ending with the devastating (but, in hindsight, inevitable) stock market crash of 1929.
A highly recommended book for anyone interested in learning more about the Roaring Twenties. I have a few other books I'll be reading as I research the setting for my novel, so 1920s fans, stay tuned!