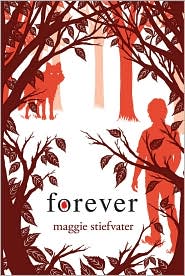 I was thrilled to get a lend offer from my new Nook buddy, the one who lent me both
Shiver
and
Linger
. Just like the others, I finished the book pretty quickly. I'm terribly disappointed that the trilogy has ended now, and the ending is even a little bit of a cliffhanger, though I won't say why.
I always struggle with how much to say about the later books in a series. I hesitate to say too much, because I know that will spoil certain things for readers who are still reading the earlier books. In this case, though, I don't know how to talk about the book at all without mentioning that the new hitch in Grace and Sam's relationship is that Grace is now a werewolf. Being bitten saved her life initially, but now it might destroy it.
The biggest threat to the wolves, and by extension to Grace and Sam, all along has been certain residents of Mercy Falls who want to hunt and kill them. There is also Shelby, one of the members of the wolf pack you meet in
Shiver
, who is aggressive and possessive. In this book the problems with her and the townspeople come to a head.
Like I said, it's something of a cliffhanger ending, and the author has made it clear that it's the last book. Too bad! I really would have liked to know whether Grace... But no, I can't tell you that! You'll just have to read it for yourself.