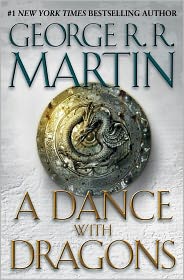 My husband was been waiting impatiently for
A Dance with Dragons
, George R.R. Martin's fifth book in his series
A Song of Ice and Fire
. Tomorrow the wait is over, and the book (and ebook) will be available. And actually, if you want to be precise, the wait will be over
tonight
— the ebook will be available at midnight East Coast time, which means about 10pm here in Colorado.
Our decisions regarding this book shows how much ebooks have impacted our reading habits. Since Michael got an iPad a month or so ago, nearly every book he's read has been an ebook, read on the iPad in Bluefire Reader. He's bought a few ebooks from Barnes & Noble, but he's also been taking full advantage of the ebooks available from our library. As a result, he's been trying to decide what to do about
A Dance with Dragons
.
I own the first four books in the series in ebook format, of course, and Michael owns them in physical form —
A Game of Thrones
he owns in mass market paperback,
A Clash of Kings
and
A Storm of Swords
he owns in autographed trade paperback, and
A Feast for Crows
he has in hardcover. He wants to buy
A Dance with Dragons
in hardcover, just to have it in the same format as the others (even though they are all different). However, he likes the convenience of ebooks, and intends to do his actual reading on the iPad with the ebook version. I'd be buying the ebook anyway, I guess, and I'm hardly one to point out that he's buying the physical version just to put it on a shelf — as an amateur book collector, I do a whole lot of that myself!
Like I said, the ebook will be available in just a few hours. In the meantime, here is an article on NPR on
A Dance with Dragons
, posted a few days ago, about how George R.R Martin's series reflects our generation's views of good versus evil, and how that has changed from Tolkien's day.