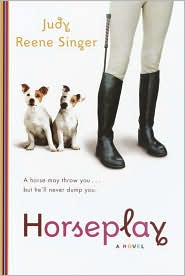 After reading
13 Bullets
, I was feeling a little burned out on the books I'd been choosing. I'd been going through books very rapidly, with quite a few of them young adult or children's, and dark fantasy as the main theme. I decided I needed something different, and, going through my Nook library, found
Horseplay
, a novel I bought a month or two ago and hadn't read yet.
The novel is about a 30-something woman who decides she has had enough with her possessive, cheating husband, and leaves him in order to pursue a new life in the horse world. Against the advice of her sister, she moves from New York to North Carolina to work as a groom at an exclusive show stables — a job usually given to teenagers. She makes friends, has relationships with a couple of different men, learns to be a better horsewoman, and most importantly, learns some life lessons about people and about herself.
From the perspective of a
horse owner
, the book was a delight. A lot of the horse stuff I could really relate to, and Judy's narrative voice (the character is named Judy, same as the author) is hilarious. It was a fast read, lighthearted and laugh-out-loud funny, not to mention exactly what I needed after all the darker stuff I've been reading lately!