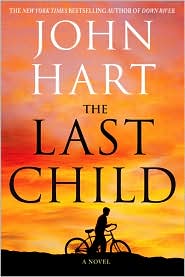 I know I like a lot of what I read — I enjoy reading so much that I rarely meet a book I truly dislike. But believe me when I saw that it's rare that I ever read a book I enjoy as much as
The Last Child
. This was an unbelievable book, one that still has me thinking about the characters and the plot days after I finished reading it.
The Last Child
is primarily about Johnny, a 13-year-old boy who is looking for his twin sister, missing for the past year. He believes everyone has failed him — the police, for not having found her, his father, for having left him and his mother, and his mother, for getting addicted to drugs and getting involved with a man who abuses both of them. So at 13, he is doing everything for himself, from the grocery shopping to hunting for his sister.
It's also about Hunt, the detective who has become obsessed with the little girl he failed to bring home and the family whose hearts were broken as a result. And, finally, it's about a man named Levi Freemantle, a black man whose role in the story keeps you guessing until the very end.
The story seems a bit slow at first, as it sets up Johnny's daily life: avoiding his mom's boyfriend, taking care of his mom, skipping school, and canvassing neighborhoods in his North Carolina town while he looks for his sister. But it picks up when another girl, the same age as his sister when she was taken, goes missing. Between Hunt's investigation and Johnny's efforts to find his sister, the story gets bigger and bigger the deeper you get into it — so big that it's not all cleared up in one brief climax. It takes 100 pages to resolve everything, and believe me, it's impossible to put the book down until they do!
I would definitely rate this book among the best I've read this year, right up there with
Water for Elephants
and
The Passage
!