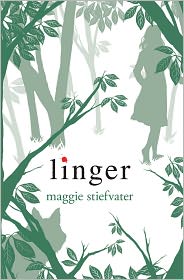 Like
Shiver
, I read
Linger
thanks to
ebookflip.com
. I borrowed both books from the same member, and may have made a friend in the process — she's going to lend me the third book,
Forever
, too, when it comes out and she's had a chance to read it! I want to return the favor and see if she wants to borrow anything of mine, so I guess it's time to figure out how to allow someone to view my lendable ebooks — if I even can, since I have the original Nook.
Anyway, about
Linger
— I enjoyed this book but thought it was rather different than
Shiver
.
Shiver
was a falling-in-love kind of book, so there was lots of sexual tension and dealing with the problem of how to be together when he's a werewolf, and that kind of thing.
Linger
, on the other hand, felt very much like an in-between kind of book — kind of like
The Empire Strikes Back
feels in the original
Star Wars
trilogy. Important things happen, but you can tell it's leading into the next book.
In
Linger
, Sam and Grace have discovered a way to be together, but it seems like all forces are at work to keep them apart. Her parents — usually incredibly self-involved, enabled because Grace has always been so self-sufficient — have decided they don't like Sam, and increasingly try to keep Sam and Grace apart. And Grace is starting to get sick, a puzzle her friends must find an answer for before it kills her. At the same time, the new wolves that joined the pack in
Shiver
are turning out to be problematic, especially the self-destructive Cole.
It's a great book, but like I said, it's clearly an in-between book, and leaves a lot of loose strings at the end of it. I'm looking forward to
Forever
, which comes out in a couple of weeks, and hoping it will give us some closure in Sam and Grace's story!