For those of you who prefer the ebook experience, or just like the good deals to be had if you are willing to look, there is a new website worth checking out:
The-Cheap.net
. I've been following these guys on Facebook for a while, and they come up with some good deals, both free
and
cheap. It's worth taking a look and maybe adding them to the blogs you follow.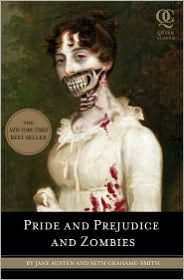 Here's a great deal that I found on their site just this morning:
Pride and Prejudice and Zombies for just $0.99
. We were just talking about this book last night at the fantasy/sci-fi book club I've recently started attending. I guess they'd read it earlier in the book club, and really liked it. I'd never been terribly interested before, but with so many positive recommendations, I started thinking I'd check it out. At this price, I guess I'll be reading it sooner than I thought!
And then, while looking up the listing in order to create an image link for the first book, I realized that right now
all three
ebooks in the trilogy are 99 cents each. Wow! Usually the first book in a series gets discounted as a way to promote the series, but all three? That's unheard of... and probably won't last long! Here are all the links — grab them while you can!