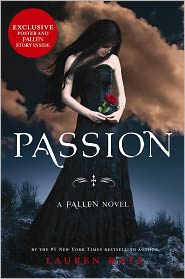 Over the winter I read both
Fallen
and
Torment
by Lauren Kate. Hers is one of the fallen angel series that is so
popular now in YA fiction
. Although I like the series well enough to continue reading it to find out what happens, I have to admit it's not my favorite.
Passion
in particular was a bit of a disappointment, mainly because I thought it was going to resolve everything and be the last book, but it ended up being almost more of a cliffhanger than the previous book. The next book,
Rapture
, is due out in the spring, which means another good 8 months of waiting to find out what happens.
The thing is, I've never felt very compelled by Luce's story. She's changing, but initially I thought she was kind of a baby, and I don't have much patience for weak characters. In
Passion
she did show more spirit, though — instead of waiting around to be saved, she took matters into her own hands, which I respected. But I still find that I have some difficulty caring very much about what happens to her.
Looking back on my review of
Torment
, I commented then too that I liked that Luce was starting to show some independence. Hopefully she will continue to do so — and hopefully the fourth book won't get too religious. Since the title is called "Rapture" and since Lucifer and his fallen angels are trying to erase the world and start over, I'm a little worried that it could get too religious for my tastes.