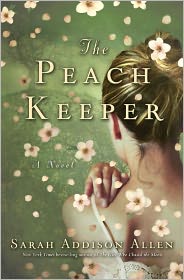 I've been tearing through books lately, reading faster than I can write reviews it seems, so I'm playing catch-up. I read this book over the weekend, finishing it in little more than a day — it was so good I could hardly put it down.
The Peach Keeper
is about two women who become unlikely friends, Willa and Paxton. Paxton has been renovating Willa's old family home, which hasn't been in her family since the 1930s, when her family suffered serious financial problems. The two women stumble on a mystery and discover that their grandmothers were best friends as girls, and that everything they know and value may not be what it seems. It's a love story for both women, but also a tale of finding yourself — how the past does (and doesn't) define us, and how sometimes we need to be reminded of the importance of friendship.
Some years ago, I read
Garden Spells
, also by Sarah Addison Allen. I was delighted to see the main character from that novel make an appearance in this one. She didn't have a big role — it was just a cameo, really — but it made me smile that the author found a way to pull her character into the story.
Although I liked
Garden Spells
,
The Peach Keeper
was a much better novel. The mystery of what happened to their grandmothers in 1936 will keep you reading as fast as your eyes can devour each page!