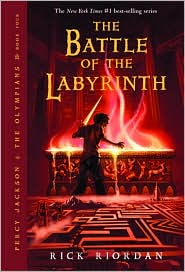 I've been reading the Percy Jackson books whenever I can get them from the library, and after reading the second one (
The Sea of Monsters
), I put holds on for all the remaining three ebooks. As a result, I ended up getting the fourth (
The Battle of the Labyrinth
) and fifth (
The Last Olympian
) books at the same time, which meant four days of Percy and a huge grand finale to the series.
The 9-year-old boy I babysit for read all of these books not too long ago, and I'm trying to remember which he said was his favorite — but I think he said it was the fourth book, this book. If so, I can see why. The good-versus-evil conflict is really starting to heat up in this book, and therefore there's a lot more fighting and a lot more on the line for Percy and his friends. Plus, there's something extremely compelling about a few kids trying to navigate the labyrinth. Maybe that's because it was one of my favorite myths as a kid.
Anyway, it's a pretty fast-moving book. All of them were to some degree, but for some reason this one was even more so — perhaps because, like I said, the danger is getting more immediate, or perhaps because the entire adventure, from beginning to end, happened more smoothly than usual. The kids literally went from one crisis to the next the entire book.
A great book... and boy was I glad I already had the last book when I finished this one, because this one ends in a way that makes you want to read the next one right away!