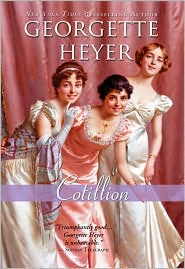 To celebrate her birthday, Sourcebooks has put all
Georgette Heyer ebooks
on sale this week.
Georgette Heyer
was a prolific author writing in the 1920s through the 1970s. She wrote primarily historical romance, including a lot of Jane Austen-esque Regency romances, but she also had a couple of detective series.
A couple of her ebooks have been free or on sale via Sourcebooks over the last few months, and her first novel,
The Black Moth
, is in the public domain so you can get it for free from a variety of publishers. (Click here to get
The Black Moth from Girlebooks.com
, which is the best formatted free version I've found.)
All the rest of her books are published via Sourcebooks, and are normally around 10 bucks a pop, so this sale is substantial. Supposedly all of her ebooks should be $1.99 via Sourcebooks, although I think I've seen a couple that haven't been discounted yet.
Remember, Sourcebooks is a publisher that is known for extremely limited-time sales — their free ebooks usually are only free for 2 or 3 days, and their ebooks sales are usually similarly short. This sale is supposed to be going on all week, but definitely don't wait if you see any titles that interest you, as prices are sure to go up immediately at the end of the week.