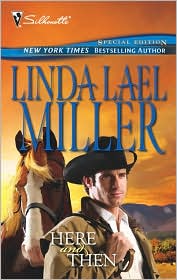 Linda Lael Miller is a blast from my past — I used to read her romance novels when I was in high school — so reading this book reminded me of being young, in a fun way of course. Incidentally, the book was originally published in 1992, which was shortly before I started reading romance novels.
This book reminded me a lot of my favorite romance novel back then,
Forever, Ashley
by Lori Copeland, which was about a modern-day woman who time-traveled back just in time for the Revolutionary War. It was hysterically funny, a real treat to read.
Here and Then
wasn't quite as funny, but it did have some amusing moments, and of course, it was a time travel romance too (they were really popular back then).
Rue, the modern-day heroine of the novel, time-travels back to 1892 when she is trying to find her cousin Elisabeth (who has also, incidentally, time-traveled — and is, naturally, the heroine of an earlier book,
There and Now
). Unlike Elisabeth, who chose to stay in the past, Rue knows she belongs in modern day — so it's just a matter of convincing the handsome sheriff Farley Haynes to come back with her.
It's no literary masterpiece, obviously, but it was good fun, and a fast read!