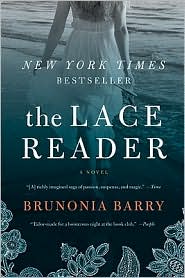 My mom read this book recently, and liked it so much that she read it a second time as soon as she finished. I thought that was a pretty good recommendation — reading a book twice in a row, I mean — and decided to read it myself. I was quite happy to find that my library had the ebook, and checked it out right away.
It took me a little longer to read it than usual, partly because we were busy over the weekend, and partly because I wasn't getting into it as fast as I thought I would. The book is about a woman named Towner, who returns to her hometown of Salem after 15 years of being gone. Her great-aunt has disappeared, and as much as she wants to continue running from her past, she can't deny how much Eva means to her.
It's hard to tell what's going on at first, but you start getting the feeling — just a little bit here and there — that something is pretty wrong with Towner, and with her family. Brunonia Barry has a style of writing that I think it best described as
subtle
. Very rarely can I say that I was completely shocked by the ending of a book, but in this case I was — I didn't at all expect the revelation that is made at the climax of the book. This is how I mean that her writing style is
subtle
— I didn't even realize that a surprise was coming, so I wasn't trying to figure anything out. Slowly doling out backstory without giving the game away — now
that
is what I call talent.
And of course, I did the same as my mom, and the instant I finished the book, started over again. Mostly I just skimmed, as it was all the interactions with her family, and the references to what had happened to her, that I wanted to reread. There is a lot that happens early on that you interpret in a different light once you know the truth. Like I said, though, it's really subtle. I can't say enough about how talented a storyteller Brunonia Barry is!