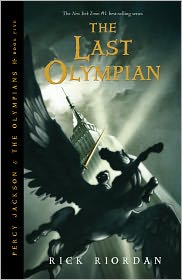 A funny thing happened last time I was at Barnes & Noble. I was sitting in the cafe, and right on the other side of the railing was a table full of Rick Riordan's books. An older couple walked up and started pointing at the various books in the Percy Jackson series, and I swear I heard the husband ask his wife, "Which one do you need?" And she was pointing to each one saying, "I have that one... and that one..." I'm
certain
she was saying that
she
had the books, and not (for instance) that a grandchild did. I was pretty tickled to find out that I'm not the only adult who enjoys these books!
Anyway,
The Last Olympian
is the fifth book in Rick Riordan's Percy Jackson series. Here are all five books, listed in order, and linked to my reviews of the earlier books:
The Lightning Thief
The Sea of Monsters
The Titan's Curse
The Battle of the Labyrinth
The Last Olympian
Of course, the way everything was built up throughout the series, but especially in the previous book (
The Battle of the Labyrinth
),
The Last Olympian
was the classic final showdown between good and evil, kind of like
The Last Battle
in the Chronicles of Narnia. The chosen demigod in a terrible prophecy, Percy is dealing with the pressures of having the future of Olympus resting on his shoulders. And though he does play a pivotal role in the conclusion of the novel, it's different than you might think, and very cleverly done on the author's part.
Having finished the entire series, I have nothing but good things to say about it, and plan on reading the author's other books. (The end of
The Last Olympian
leaves the story open for future installments, and there is a new series now, Heroes of Olympus —
The Lost Hero
is the first book, and there is a second,
The Son of Neptune
, scheduled for release in October.) These books are kind of like Narnia for today's kids — not that they are
not
reading Narnia (I hope they are!), but I think kids today can probably relate to Percy and his friends a little better.
In any case, I'm on the hold list for
The Lost Hero
at my library, and looking forward to reading about the next set of adventures!