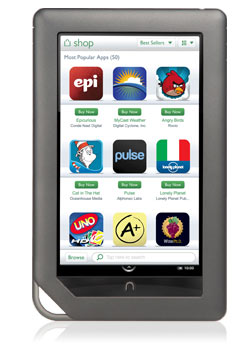 I did it — I talked my mom into getting a Nook! Initially she got a Nook 1st Edition, just like mine, but she was having a hard time reading that one so she returned it. Then she ordered a refurbished Nook Color, which is available for $179 for a limited time — usually I think these are $199, so it's a good deal, and only $40 more than the Nook Simple Touch Reader. You also get the same warranty as a new Nook, and can also buy the same extended warranty if you want. (Click the image link to go to the refurbished Nook Color on B&N's website.)
Anyway, my mom got hers and is absolutely thrilled. She can read the backlit screen much more easily than the eInk, for one thing. The system also seems to be a little simpler, with all the sideloaded and B&N ebooks being in the same place (they are in two different places on the N1E). By sideloading books through Calibre, the sideloaded books show up with covers, too, which makes it easier for her to scroll through her library and choose what she's going to read next.
I'm taking the advice given by some people on the B&N forums: Two (or more) Nook owners in the same household should have their own B&N accounts, and sideload books onto one another's Nooks when they want to share. So, I picked out some ebooks to share with my mom, and sideloaded them on. When I first opened one of the ebooks, I had to type in my name and credit card number on file — that's how the Nook "locks" the ebooks. The Nook remembers that information, though, so I won't have to do it again, and now I can share my ebooks with her (without having to use the LendMe feature, which is only available on certain ones, anyway).
The Nook Color seems to be so successful for my mom that I would recommend it for other older readers who have a hard time seeing the eInk screen on the N1E and the Nook Touch. I think that as my mom is aging, she is needing a much brighter reading light than she used to (she's been having a hard time reading paper books, too). The Nook Color solves this problem quickly and easily, and also allows her to change the font, line spacing, margins, etc. within the books.
In a way, I'm kind of jealous. I still love my Nook, but the Color is pretty cool!