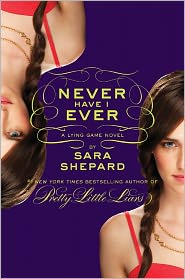 My library just recently got in a bunch of YA ebooks that I've been wanting to read. One of them was
Never Have I Ever
, the sequel to
The Lying Game
, which I read earlier this year. These books are by the same author as the Pretty Little Liars series, which I have no interested in reading, but I've been enjoying these quite a bit.
The heroine of the series, Emma, is posing as her twin sister Sutton while she tries to find out who killed Sutton. You know Sutton has to be dead, too, because she's narrating the books. At least, she pipes in from time to time with an observation or a foggy memory — she can't remember very much, not even how she died, and can't help Emma at all. All she can do is tag along and observe while Emma pretends to be her.
It's an interesting series, and as I pointed out in my review of
The Lying Game
, reminds me a bit of
Stranger with My Face
, a favorite Lois Duncan book from my childhood. Of course,
Never Have I Ever
hasn't wrapped things up, not by a long shot, but thankfully the next book,
Two Truths and a Lie
, is coming out in February. I'm glad this author seems to put out books a little faster than others who write YA series — it would be a difficult series to have to wait a year for each book!