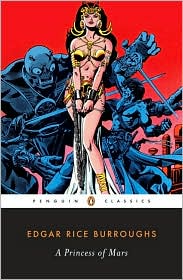 I had a hard time finding a decent-looking paperback edition of this book, but the one I've linked to here looks like a good one, published by Penguin Classics. I also liked the look of the
Mars Trilogy
, which includes the first three books in the series. If you prefer the ebook, you can get it for
free from Project Gutenberg
. (I recommend the file with images — it's neat to see the old illustrations!)
A Princess of Mars
is the basis for the movie
John Carter
that is coming out in March. My husband and I watched the trailer a month or so ago, and I was instantly smitten. I've watched it probably a dozen times now, downloaded the song that was used for it, and of course, read the book. I am so excited, I don't have any idea how I'm going to wait until March for this movie — but I'm pretty sure I'll be there on opening night, schedule permitting!
The book was first serialized in
All-Story Magazine
in 1912, but it wasn't until 1917 that it finally came out in book form. The author, Edgar Rice Burroughs, also wrote the Tarzan series, with the first book coming out in 1912. The interesting thing about Burroughs' books is that because of the age, some of them are in the public domain in the U.S., but many of them aren't. For instance, of 11 books in the Barsoom (Mars) series, only the first 5 books are available to download from Project Gutenberg, and only the first 8 of the Tarzan books (out of a total of 26).
Anyway,
A Princess of Mars
starts out as a pretty typical science fiction book from 100 or more years ago: lots of description, antiquated ideas and writing styles, etc. When the story picks up, though, it really does pick up. Shortly after the Civil War, John Carter finds himself transported to Mars, where he is almost immediately captured by a tribe of "green Martians," as he calls them. He is a classic hero with a distinct advantage of them, as he is much stronger than they are, despite their great height. Burroughs explains this as the result of the reduced gravity on Mars — the creatures there are only as strong as they needed to be in that degree of gravity. His strength and heroic feats earn him no small recognition in the green Martians' warlike culture.
He soon discovers that there are humans on Mars, just like himself, a race of "red Martians," the result of all the races mixing together over many thousands of years. A princess from one of the red Martians' tribes is captured, and John Carter (naturally) appoints himself her protector and savior.
It's a fairly short book — my Nook said it was 146 pages — and once you get past all the description during his early time with the green Martians, it moves pretty quickly. Considering when this was written, the story and world Burroughs created was pretty impressive. It's a great adventure story, and better written than most children's series of the era, so I'm surprised it hasn't been better known over the years. Hopefully they will do a good job with this movie, though, and that will change.
I'm planning to read more of the series, so stay tuned for future reviews! In the meantime, here is the trailer for the movie that's due out in March — perhaps I can get you as hooked as I am!