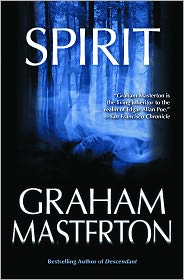 I bought
Spirit
a few weeks or so ago, when the ebook was on sale for only $2.99. (I'm addicted to ebook sales, if you can't tell!) I hadn't heard of the author before, but the book had some good reviews, so I thought I'd try it. Besides, I'm a sucker for a ghost story!
Interestingly, even though the book is horror/suspense, it's written in a rather literary style. You know, longer paragraphs, longer descriptions, slower action scenes, and I don't even know how I would describe the tone — a little bit distant from the characters, I suppose, and slightly old-fashioned. The novel is set in the 40s and 50s, and if I hadn't already checked the publication date of this novel (1995), I would have sworn it was written back then, too.
Despite the slightly different tone and style of writing, and despite the fact that I don't normally read this kind of horror, I really enjoyed this book. I didn't really find it scary (I think the last time I was scared by a book I was about 8, reading Roald Dahl's
The Witches
), but it was haunting, intriguing, and kind of sad. I thought the connection to literature was rather original, as well, and enjoyed all of the literary references. I'll probably read "The Snow Queen" next so that I can see for myself the parallels in the novel, even though the author seemed to do a good job of explaining them.
An enjoyable read, though it's not very horror-like — for some people, like me, that's a good thing!