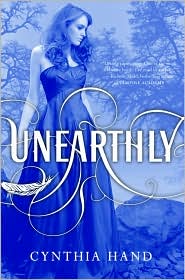 Unearthly
has been on my Barnes & Noble ebook wishlist since before it came out, when it was just a pre-order. I was ecstatic when my library acquired the ebook version a couple of weeks ago, and checked it out right away.
Unearthly
is about Clara, a girl who is a normal high school teen in every way, except that she is a quarter angel. Her mom, who is half-angel, has been preparing her for when her powers begin to develop, so when she has a vision relaying her purpose as an angel, they move to Jackson's Hole, Wyoming, so that she can pursue her destiny. There she meets two very different guys, makes friends as well as enemies, and learns that even being an angel isn't easy.
The book reminded me a lot of another author's take on the YA angel romance idea:
Halo, by Alexandra Adornetto
. But whereas I didn't like that one very much, I found
Unearthly
to be very compelling and mysterious. I think it helped that it wasn't as aimless as
Halo
— Clara's purpose gives the story a much stronger plot than
Halo
had. The idea of a love triangle with an angel was interesting, for one thing. I have to admit, I suspected the plot twist at the end, but it didn't make the revelation any less intriguing! I hope there is going to be another book, as there seems to be with most YA books these days.