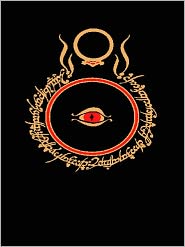 I found this ebook edition of
The Lord of the Rings
about a week ago, and immediately bought it. As far as I can tell, it's the only ebook edition that contains the complete trilogy, and at $18.99, it's a pretty good deal. (To buy the ebook editions of all three books in the trilogy separately would cost you $29.97, since all three are $9.99 each.) I wish more series would come out with "boxed sets" in ebook edition that offer discounts like this!
Another reason why I bought it: It's the same text as the special Millennium Edition box set I own. For that edition, the publisher had corrected the changes American publishers made without Tolkien's permission. It feels like this edition is more correct, somehow, so I like having it in ebook form as well as my collector's edition. I've already read my box set 3 times, and it's starting to show a little wear from that — though not much, because I'm very careful with my books. Still, it'll be nice to have the ebook edition next time I decide to reread this classic!
Last time I read
The Lord of the Rings
, I did review it briefly on this blog. You can read my review my clicking on the text link here. It's been a while... I'm thinking I might need to reread it again soon!