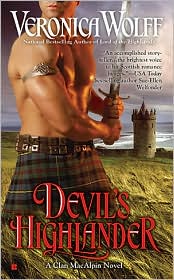 When my mom got her Nook Color recently, she started checking library ebooks out under my account. When her holds come in, I just download the book and help her put it on her Nook. (Thankfully we live close to one another and see each other often!) One of the ebooks she checked out was
Devil's Highlander
, which looked like fun, so I decided to read it too.
The "Devil's Highlander" is Cormac MacAlphin, who has suffered ever since his twin brother Aidan was kidnapped into slavery when they were 10. You practically can't have a romance novel without some degree of angst, so of course both Cormac and Marjorie, who were playing together as kids when Aidan was mistaken for a chimney sweep, both blamed themselves for Aidan's abduction.
It was, as I thought it would be, fun — a fast read that only took me a couple of days, and
that
was with me not having a lot of time to read (my husband Michael has been on vacation this week, and has been home distracting me). I might even read the next book,
Devil's Own
, which is (of course) about Aidan. But first, I need a break from romance — I've been reading too much of it lately, and feel like I need to read something a little more thoughtful for a change.