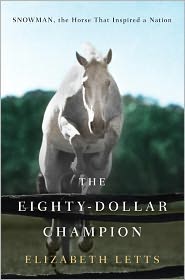 As a horse owner, how could I say no to the image of a horse jumping on the cover of this book? When I saw
The Eighty-Dollar Champion
on my library's list of new ebooks, I was hooked even before reading the description.
It was a fascinating biography of Snowman, a plow horse rescued off a kill truck in 1956. His new owner, Harry de Leyer, was actually looking for a calm lesson horse for his students, which Snowman was, without a doubt. But when he tried to sell him to a neighbor a few miles down the road at the end of the school season, it became obvious that Snowman had more potential than just packing beginners around — day after day, he jumped fence after fence to get back to Harry's house, until Harry decided to buy him back.
He started teaching Snowman to jump, and when it turned out that Snowman could
really jump
, Harry started taking him to shows. And Snowman, who was bred to work and who had never done any show jumping before, ended up winning the championship — though he was still just as happy to go back to packing kids around on the off season.
The book is a well-written biography of Snowman, Harry, and the rest of the de Leyer family, but it's also a well-researched book about the world of horses and showing. If you love horses, you will love this book!