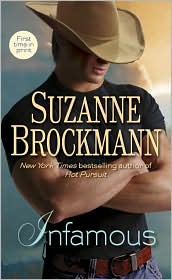 My mom wanted me to check the ebook of
Infamous
out from the library for her Nook Color, so I ended up reading it, too. And actually, I enjoyed it very much. It's either romance or romantic suspense, with a little bit of a supernatural twist. Alison Carter is a professor of history and considers herself an expert on Silas Quinn and the (supposed) outlaw Jamie Gallagher, but now Jamie's great-grandson, A.J. — who shouldn't even exist, according to how Quinn told the story — is trying to convince her that everyone's got it wrong. The catch: A.J. is being haunted by Jamie's ghost until he gets the job done.
There's a lot more than just that going on, though. On the set of the movie being made about Quinn — based on Alison's book, which she's now being told is all wrong — Alison witnesses something she shouldn't, and winds up with some very dangerous criminals trying to silence her. It's up to A.J. — and Jamie! — to protect her.
For a book that wasn't originally on my reading list at all, I really enjoyed
Infamous
. It's good fun — but be warned, it has some pretty descriptive sex scenes in it!