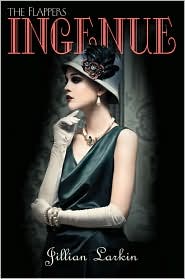 Nearly a year ago, I read the first book of Jillian Larkin's series The Flappers —
Vixen
— thanks to Barnes & Noble's First Look program, which allowed forum members to read and discuss advance copies of upcoming books. I love the 1920s — I even had a
1920s-themed wedding
— so I was thrilled with how captivating and well-researched
Vixen
was.
I totally forgot to look out for future books, though, so I was surprised and thrilled to see that the newest installment had already come out.
Ingenue
is about what happens to the girls — Gloria, Lorraine, Clara, and Vera — after the shocking end of the first novel. Whereas
Vixen
took place in Chicago, in
Ingenue
the girls have all made their way to New York in some way or another, and the stakes have become much deeper as they've all gotten more firmly entrenched in the more dangerous aspects of 1920s culture.
Interestingly, although I always felt like Gloria was the main character in
Vixen
, the same doesn't feel true in
Ingenue
. While the focus of the events of the book surround Gloria and her love interest, the book itself focuses more on developing the other characters, especially that of Vera, who didn't come in until the very end of
Vixen
. I found I liked Clara more and more — she was the country cousin, the flapper-gone-bad who was banished to live with her privileged cousin Gloria in the first book. In
Ingenue
, she finds herself unable to resist the draw of the flapper culture, despite the way it'd burned her in the past — except this time, she's doing it with an admirable purpose (and one I can relate to) in mind.
The end of this book is even more explosive than the end of
Vixen
, and I'm eagerly awaiting the third book,
Diva
, due out in 2012. I don't know how many books there will be in The Flappers series, but I feel like the stakes are getting higher with every book!