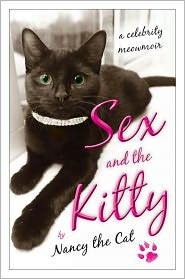 If the title and author on the cover of this book don't give it away,
Sex and the Kitty
is a little tongue-in-cheek. It's essentially a pet memoir written from the point of view of the pet — who is still very much alive, by the way, so this isn't the kind of "pet memoir" that ends in tears. It's a hilarious account of an adventurous young female cat who has big dreams.
Reading between the lines, it sounds like Nancy's owner started out keeping a
Facebook page
and a
blog under Nancy's name
. Seems like little Nancy is quite well known in her area — and is especially famous for visiting the local pubs, and hopping in people's cars and going home with them. Her "meowmoir" fills in the gaps, when she was MIA from her owner's house, with adventures in her quest to become famous.
It's quite the unique idea, and I love Nancy's (or her owner's... though we don't want to
offend Nancy
by saying that too loudly,
shhhhhh
) sense of humor. Anyone who owns cats will definitely "get" all the cat humor (though it may take a slightly more refined sense of humor to get the rest of it, such as the bits about the artist cat who has replaced his name with a paw print). And I have to say that it's so nice, for once,
not
to read a pet memoir that ends with me sobbing into a box of tissues!