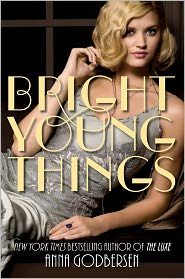 I just finished reading
Ingenue
by Jillian Larkin (review to be posted tomorrow), so it seemed like lovely timing to see this deal finally hit Barnes & Noble: the ebook of
Bright Young Things
, the first book in Anna Godbersen's newest YA series, available for free to promote the next book in the series,
Beautiful Days
.
I read this book early this year, when I was gearing up to write a 1920s novel of my own. I've been doing even more research, and even started working on my novel, this summer, so this particularly freebie is nicely timed — I think I might reread the book. You can read my original review here:
Bright Young Things by Anna Godbersen
.
This freebie has been available over on Amazon for at least a week as a pre-order, and I'd given up hope of it ever coming to Barnes & Noble. It is, however, an agency title, and may not be available as a freebie much longer. — all depends on when the publisher pulls the plug. Don't delay in downloading this one!
Note 9/26/2011:
Now that
Beautiful Days
, the second book in Anna Godbersen's new series, has been released (as of the 20th of this month),
Bright Young Things
is no longer free. The image link above will take you to the regular edition of this novel, which costs $8.99 as of this writing.