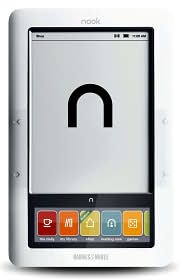 The Nook 1st Edition has come down even more in price as Barnes & Noble gets rid of their excess inventory to make room for the new Nook Simple Touch. Right now you can get the wifi-only model for just $89, which is the cheapest I've ever seen it. If you want an e-reader without having to spend the big bucks, I highly recommend the N1E!
The wifi-only model is the same one I have, and I've never missed the 3G connection. It's a great e-reader with good battery life (I get about 10 hours on a single charge). Barnes & Noble also has some good prices on covers for the N1E — pretty much all of them are $15 each, which is a fraction of the original prices.
The other good thing about the N1E — all the bugs have already been fixed, so by buying the "old" technology, you won't have to deal with any of the updates or patches!
If you are interested in an e-reader but haven't want to spend a lot on one, don't delay — at this price, I don't expect the N1E to be available for much longer!