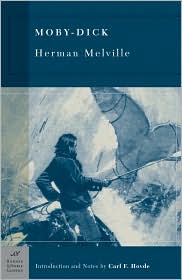 I've been plugging away at yet another long, epic fantasy novel, which partly accounts for the lack of posts lately. (The other reason is that I've been terribly busy lately, so busy that I haven't had as much time as usual to read.) I'm almost done with the book, so you'll have a review soon, but in the meantime, I wanted to share a story NPR did recently on why you should read
Moby-Dick
.
I've read only part of
Moby-Dick
, a long excerpt that was assigned in one of my literature classes in college. It was interesting, but I could also see how it would be tedious — and it sounds like I probably read one of the more readable sections, judging by the NPR story.
The radio spot is an
interview with Nathaniel Philbrick
, the author of a new book called, of course,
Why Read Moby-Dick?
. I've always planned on going back and reading the whole thing, which of course I've never done; but just listening to the author read aloud from the book had me renewing my vows. Philbrick also talks a bit about the current state of the union when the book was published, which I think is always fascinating, and calls the book the closest thing we have to an American Bible.
Really a quite fascinating story — I highly recommend not only reading the article, but also listening to the radio spot!