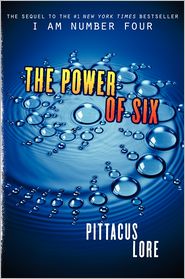 You might remember when I read
I am Number Four
, and posted about who the author was: James Frey.
Turns out that's not quite true. When I got
The Power of Six
from my library, I started doing a little more research, and quickly discovered this expose about
James Frey's Full Fathom Five
, a book packaging company that produced these books. The ideas were partly Frey's, but the
real
author of the first book, an MFA graduate, also helped developed the plot and the concept for the series.
You may also remember that I didn't really like the first book. The movie was excellent, but I didn't really care for the writing style in the book. The frequent incomplete sentences irritated me so much that I was pulled out of the story.
The Power of Six
was better, and I'm glad I did read it, even though my husband questioned why I was bothering. The writing style was much better (different writer this time), and I liked the story. Things are heating up, and I'm looking forward to seeing what happens in the next book. I feel almost dirty for saying so, since I'm supporting James Jackass Frey, but I must confess, I
am
interested. I just don't know which would make me happier — his book packaging company crashing and burning, or reading the rest of the series!