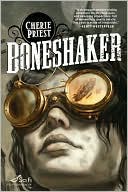 Boneshaker
was the November selection for the sci-fi/fantasy book club my husband and I attend every month. Because I was participating in NaNoWriMo to write
a novel of my own
, however, I got very little reading done in the month of November. As a result, it took me at least two weeks — an excruciating pace, for me — to finish
Boneshaker
.
This wasn't to say I didn't like the book. In reality, I actually liked it the best of all the books we've read in the book club so far. My husband and others in the book club pointed out that it's not "great," which I suppose is probably true, but even so, I thought it was quite good: lots of action, interesting characters, and a fairly compelling story. In fact, I already bought the second book,
Clementine
, though heaven knows when I'll be able to get to it!
Boneshaker
is one of only a few steampunk novels I've read, but I'm finding that I really enjoy the genre. I don't know if this will always hold true, but the ones I've read are quite action-packed. And I've noticed so far that, with the ones I've read at least, the main characters seem to usually be women. A nice touch, considering the novels are historical, and a large percentage of historical fiction seems to feature men as main characters — history being the study of dead white men, and all that.
Suffice it to say that I'm enjoying the genre very much, and plan on reading more of it!