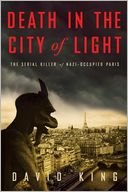 I have a quite a few books to catch up on now — I've been reading a lot lately, ever since NaNoWriMo ended on November 30th. One of the first ones on my list once I finished
Under Heaven
and
Boneshaker
(two books I'd been picking away at during November) was
Death in the City of Light
, a nonfiction book about a serial killer that was discovered Paris toward the end of the Nazis' occupation of the city.
The book was a bit similar to Erik Larson's approach to
The Devil in the White City
, nonfiction woven together in a storytelling fashion. It wasn't quite as captivating as Larson's book, but it was sure close. The book opened with the discovery of the serial killer's lair, followed with the man's childhood and background, and drew out the details as they were gradually exposed by the investigation and then the trial. The effect is surprisingly suspenseful.
The amount of detail the author includes is phenomenal. I like how the research was focused on the serial killer and the subsequent investigation and trial, but also revealed a broad knowledge of Nazi-occupied Paris.
A great book for history lovers!