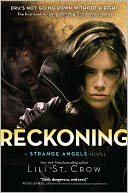 It was just over a year ago that I first read
Strange Angels
by Lili St. Crow. I was skeptical at first but decided to try the book out, and ended up really loving it. I followed Dru's adventures through three more books, and a couple of weeks ago was thrilled to find out that the fifth and final book had come out. I love following a series all the way to the end!
Here are the five books in the series, in order:
Strange Angels
Betrayals
Jealousy
Defiance
Reckoning
(this book)
I always worry about reviewing individual books in a series, because I don't like spoiling anything for those who haven't gotten very far yet. Your best bet is to read this review at your own risk.
Things go from bad to worse for Dru throughout the series.
Reckoning
starts out right where
Defiance
left off, with Dru on the run yet again, this time from the very order she thought was supposed to protect her
as well as
the big baddy vampire who is chasing her. She ends up with not just one, but both of her love interests along for the ride: Christophe, who is half-vampire, and Graves, a.k.a. Goth Boy, a sort of half-werwulf (he was bit and survived, and became a very rare form of werwulf). Both of them are trying to protect her in their own ways.
I don't want to spoil the ending for anyone, but suffice it to say that I was really surprised by how the author resolved the problem of which boy Dru would end up with!