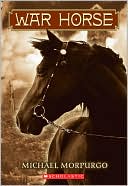 I've been hearing a lot about
War Horse
over the last few months. The ebook has been a good price for ages (just a little over $5), and I saw a preview for the new movie a few months ago, so the book had made it onto my reading list — where it languished until, last weekend, I decided to read it and decide whether to give it to the horse-crazy girl I nanny for as a Christmas present.
The book is short, only a little over 100 pages in the ebook version, so it was a fairly fast read — I read most of it the first night, and finished it the next day.
War Horse
is a beautiful story told from the horse's point of view, reminding me a lot of
Black Beauty
. Instead of exposing the poor treatment horses receive, as Anna Sewall intended
Black Beauty
to do, though, this is both a historical novel and an anti-war story.
Then, of course, I learned that the movie was coming out in theaters Christmas Day — so of course, I mentioned it to hubby, and we decided to see it. We tried to go in the afternoon, but it was completely sold out at two different theaters, so instead we caught the very last showing at 10:40. It made for a very late night (the film is nearly two and a half hours), but it was well worth it — and we were two of only about six people in the entire theater, which was nice.
The
New York Times
review of War Horse
described the movie as an anti-war film. I didn't even realize it until I read the review, but the book had some pretty subtle anti-war sentiments as well. For example, there is a scene where a British and a German soldier flip a coin over who gets Joey, and then comment on how the outcome of the war could be decided in the same fashion — basically saying how unnecessary all the death and destruction is.
Interestingly, a fellow horse owner and boarder at my barn complained that she was expecting "more horse and less war." I actually thought the war scenes were pretty toned down, but then again, I'm a big fan of action movies, so I'm used to Spielberg's usual stuff. I also liked how the movie's pastoral scenes were filmed in the style of old-fashioned movies, on a set (instead of outside) and with similar lighting. Those parts of the movie have a very nice quaint feel to them, which helps to contrast with the noise and action of the war scenes.
Long story short, both book and movie were excellent for horse lovers, but I don't think you
have
to be a horse lover to appreciate them. My husband loved the movie, and he is a rather reluctant participant in my horse activities (when he participates at all)!